We are happy to announce that four procuRE cities – Velenje, Barcelona, Eilat and Istanbul – have been selected to take part in the new EU Mission: 100 climate-neutral cities by 2030 – by and for the citizens. The procuRE PCP offers the initiative a new approach to renovate a large number of schools and buildings within a short-time frame. The R&D solution is being tested in Velenje, Barcelona, Porto, Eilat and Istanbul to be communicated within the network during Phase III.
Objective of the Mission:
to deliver 100 climate-neutral and smart cities by 2030 and ensure that these cities act as experimentation and innovation hubs to put all European cities in a position to become climate-neutral by 2050.
Selected cities:
100 cities are selected, 12 cities from countries associated to Horizon Europe, the EU's research and innovation programme (2021-2027).

Benefits for cities:
Tailor-made advice and assistance from the Mission Platform (managed by the NetZeroCities consortium)
Unlocking additional funding and financing opportunities through a Mission label
Research & innovation funding opportunities for cities to join large innovation actions, pilot projects and demonstrations (total budget from Horizon Europe for 2021-2023 is €360 million)
Support through a national coordination network
Networking opportunities, learning and exchange of experiences among cities
Support with involving citizens in decision-making
High visibility – raised political profile and attractiveness for investment and skilled workers
Next step:
Cities will start working on their Climate City Contract. Climate City Contracts are drawn up by cities, involving citizens and partners, and set out their plans to achieve climate neutrality by 2030. The contracts are a clear and highly visible political commitment, but not legally binding.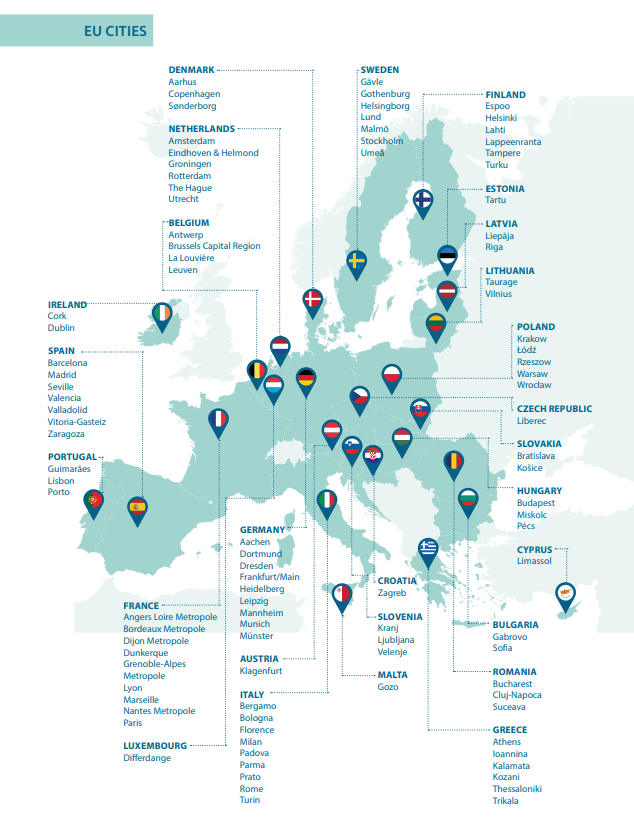 Useful links:
For further information, the Cities Mission homepage
Report of the mission board for climate-neutral and smart cities
Factsheet containing all selected cities
A short video highlighting the participating EU cities
An FAQ document covering questions related to the Cities Mission in more detail