Time until deadline for submission
Proposals have to be submitted electronically by 22.2.22 17:00 CET via the S-Procurement Information System.
Questions about the Tender (e.g. content, documents, forms) have to be submitted via S-Procurement by 13.1.22.
For questions about the submission platform S-Procurement, please contact the English-speaking Help Desk:
info@s-procurement.si, T: +386 1 60 100 71
Tender Launch event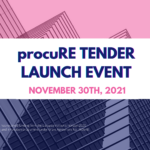 Register to learn about the tender documents which go public within days
Tender Info Webinar & Matchmaking
Deadline for submitting questions
Deadline for Lead procurer to publish answers
Lead procurer will answer the submitted questions in the form of a Q&A document
22.02.2022 Deadline for submission of tenders
22.03.2022 Notification of results
April 2022 - June 2022
3 months
Phase I
Concept design, solution architechture, technical specifications and assessment framework.
Total budget: €1.15m / 6 suppliers / €192.000 per supplier
July 2022 - February 2023
8 months
Phase II
Development of prototype systems: design level is as detailed as possible, planning and calculations are final.
Total budget: €2.3m / 4 suppliers / €576.000 per supplier
March 2023 - June 2024
16 months
Phase III
Deployment and testing of the solutions: designs are turned into construction drawings, the solutions are installed, made
operational, maintained and performance data collected.
Total budget: €4.22m / 2 suppliers / €2.11m per supplier
The submitted offers will be evaluated by The Buyers Group, consisting of  6 procurers: KSSENA (Slovenia regions), AMB (Wider Barcelona, Spain), NUREMBERG (Germany), ENERGAIA (Porto Region, Portugal), IMM (Istanbul, Turkey), EILAT (Israel).
The Buyers Group is in charge of over 21,000 buildings and has ambitious carbon neutrality goals (see strategies of Barcelona, Eilat, Istanbul, Nuremberg, Vila Nova de Gaia and Velenje for more detail).
procuRE invites other procurers to participate in OMC, answer the OMC questionnaire and to join the forum. procuRE will take input into account and share results as early as possible.
Pre-Commercial Procurement
The Pre-Commercial Procurement process will be executed in four phases, ending in June 2024. In Phase 0, the procurers will prepare Tender documents. During this time Open market consultation will take place. In Phase 1, the selected suppliers will work on concept design, solution architecture, and technical specifications. Then, in Phase 2, the selected suppliers will develop their prototype systems in two iterations. Finally, in Phase 3, selected contractors will test their pilot systems. 
In parallel to these phases, separate work strands for co-design, evaluation & impact assessment, dissemination and project management will support the project objectives. For the three phases of the pre-commercial procurement, the table below shows the envisaged distribution of budget, the number of expected suppliers for each of them as well as the planned share of R&D product costs for Phase III.